Caffé Magia® Energy Tablets Melt Fast In Your Mouth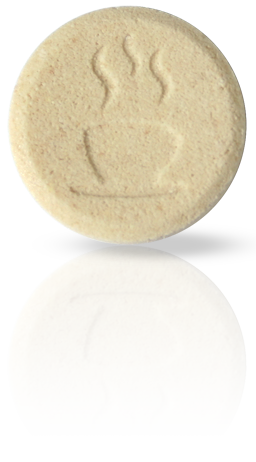 Driving at night? Test coming up? When you want to stay alert and awake without being strung out, try Caffé Magia® tablets.
Caffé Magia® tablets contain zero calories, Vitamin B and caffeine for quick, sustained energy and alertness in class, at work or at play.
One tablet contains the caffeine found in a six-ounce cup of coffee, and the Vitamin B your body needs to turn food into energy. Two tablets have the caffeine in a 12-ounce coffee.
Flavors: French Vanilla Cappuccino Coffee and Green Tea Latte.
Why pay 3 or 4 dollars for every energy drink bottle? Each Caffé Magia® tablet costs only 25 cents, and that's even cheaper than buying a cup of coffee.
("Caffé Magia®" rhymes with "Cafe Maria".)

Avoid throwing away bottles and cups. Switch to lower waste Caffé Magia® packaging. You can tear off a row, or just one tablet, and have each tablet remain sealed until you need it. Caffé Magia® tablets are very portable.
Before a cup of coffee can cool, you can let a Caffé Magia® tablet fast-melt on your tongue, amuse your taste buds and pleasantly provide what your body desires for alertness and energy.